MODIFIED ON: November 28, 2022 / ALIGNMINDS TECHNOLOGIES / 0 COMMENTS
Best App Development Companies in Kenya
Which is the best mobile app development company in Kenya?
Where could I get the best app developer in Kenya?
Who are the best mobile app consultants in Kenya?
What companies based in East Africa (particularly Kenya) are the best for developing custom mobile apps and websites?
What is common in these questions?
They are the same questions phrased differently!
Even though it looks like that may be true, these questions are asked by different people on Quora over a period.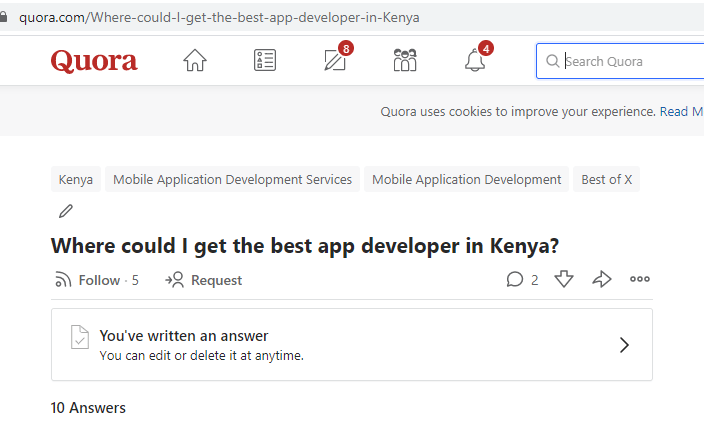 These questions are asked by different people on Quora over a period.
There are so many similar questions that ask the same questions but phrased differently on the internet. The numbers are increasing day by day.
One of the reasons why such questions are asked more frequently is Kenya is rapidly becoming one of the technologically advanced markets in the world.
The number of people using smartphones and digital services is increasing in Kenya. As people are adopting technology to make their lives easier, businesses are investing more money on technology to keep up with the trend. As a result, the app industry is rapidly expanding in the country.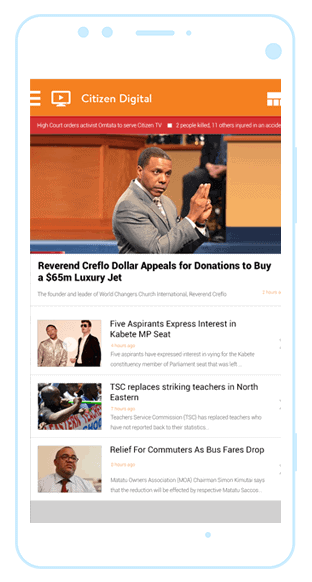 However, since Kenya is an emerging market, there is a gap in demand and supply when it comes to the app industry. While businesses are looking for technology solutions with top quality at an affordable price, there are not so many service providers who are able to meet this growing demand. This is just opposite to a developed market like the US which has already gone through several technology evolutions and the market is somewhat saturated with a good number of service providers.
Due to this wide gap between technology demand and technology supply, it is often difficult for a person or business to find the "right app developer" in emerging markets like Kenya. So, these questions are not without a cause.
Is that mean there are no good app developers in Kenya?
Absolutely not.
The Kenyan market is adopting technology at a fast pace. Due to the quality of the services provided and at the cost they were made available, there are several app developments companies who have already made their space in Kenya.
How to choose the best mobile app development company in Kenya?
There are many ways to find the best mobile app development companies.
Use Google
As always, Google is your best friend. Simply do a search on Google using keywords like "Best app development company in Kenya". See what comes up.
Google has a sophisticated search approach that is developed to show only the best results.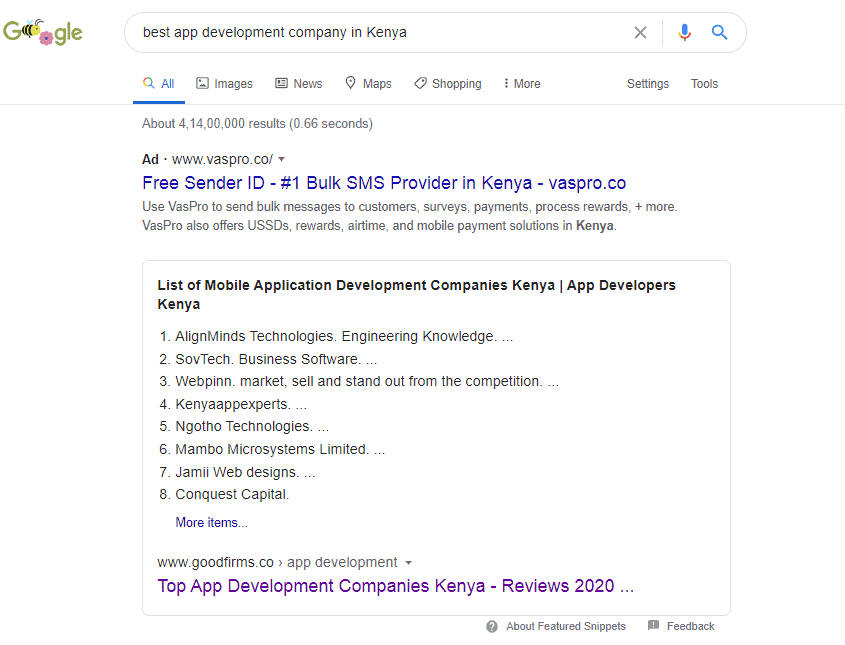 Go to Business directories
There are several websites that list the businesses by industry and services offered. Websites like Clutch.co, Goodfirms.co etc features reviews from clients on the listed company profile. They also release curated lists of top app development companies based on the client ratings and reviews periodically.
App developers with good ratings and reviews may quote a higher price for their services. Unless you are looking for something cheap, always go for companies with top ratings since they are more likely to deliver quality and results.

Seek help from your business network
Investing in an app will cost you money. But, it will be the most beneficial step you can take for your business. The only thing is, you must make sure that the money is invested in the right team.
One of the most reliable sources to find the best app developers can be your professional network. Check whether anyone in your network has worked with any app developed company in the past. If yes, how was the experience and what was the result? Ask them questions like
What was the overall cost of developing the app?
What were the features offered at that price?
How long it took the development team to deliver the final product?
How was the communication between the teams?
How was the quality of the final product?
Did the app development company take care of deployment and maintenance?
Has the app helped your friend to achieve the same result she was expecting?
How did the market respond to the app?
What was the feedback from the actual users? Was it positive?
Find the creators of popular apps in your industry/market
In the past, as an app development company, we have partnered with some of the prominent organisations in Kenya to implement some of the cutting-edge solutions the market has ever seen.
Look at the examples below.
EMS2GO: Developing pick and delivery app for POSTA Kenya
Postal Corporation of Kenya (PCK) is the largest distribution name in Kenya. They vowed to deliver superior communication, distribution, and financial solutions to customers. As part of their mission, PCK wanted to develop a real-time pickup/delivery solution for their customers. AlignMinds developed a comprehensive pickup and delivery solution that consists of three components.
A consumer pickup and delivery app to help registered users to place and track orders real-time.
A driver app to help drivers and riders timely deliver the package to the right recipient.
A web backend that helps the staff of PCK to manage the system.
Visit the client's website: https://www.posta.co.ke/ems2go/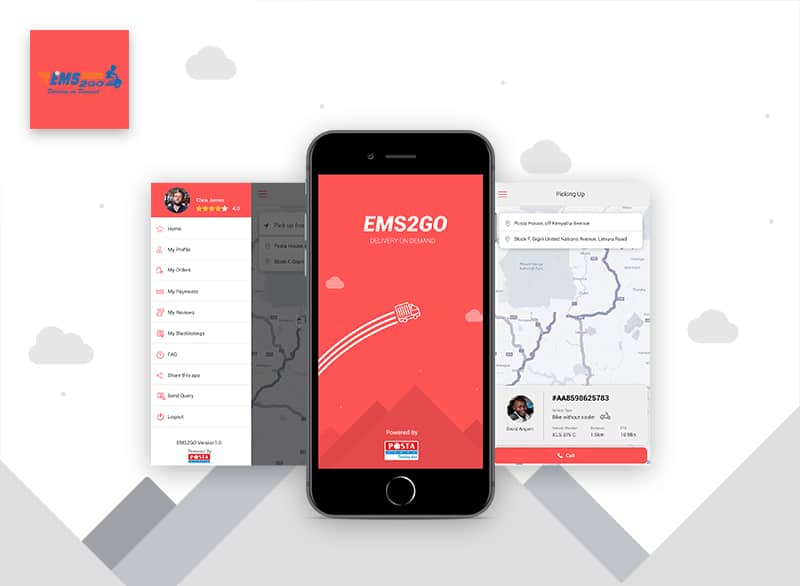 Citizen Radio App for live streaming
Royal Media Services Limited is the largest media house in Eastern Africa with fourteen radio stations under their wing. They also own Kenya's most popular TV channel, Citizen TV.
To meet the demand of their growing fanbase, RMS wanted to develop a mobile platform that will enable them to live stream all their radio programmes.
The mobile app AlignMinds developed, which are available for Android and iOS platforms, featured all the 14 radio channels of RMS and enable any smartphone user to enjoy their programmes live.
The app has been downloaded 100,000+ times in Play Store and a rating of 4.5 from 1206 users.
Google play store: Citizen Radio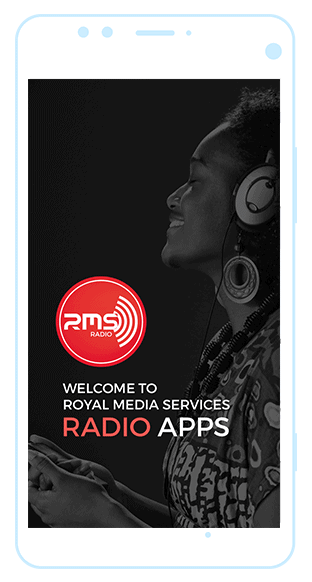 Citizen TV
Citizen TV is the largest television news channels in eastern Africa. To widen their reach and penetrate even the remote areas in the countries, Citizen planned to develop a web news portal and a mobile app with live streaming to deliver unbiased news to maximum population.
To help Citizen with their business objective, AlignMinds Technologies developed a modern news portal with live TV and other friendly features like news page, article share, font customization etc.
The citizen mobile app which is available for Android, iOS and windows platform set a new trend in the news industry with its robust features that encourage users to spend more time on the platform. The app has been downloaded more than 1,000,000 times on Google Play and has an average rating of 4.1 from a total of 6,599 ratings.
News portal: https://citizentv.co.ke/
Mobile app: Citizen TV News app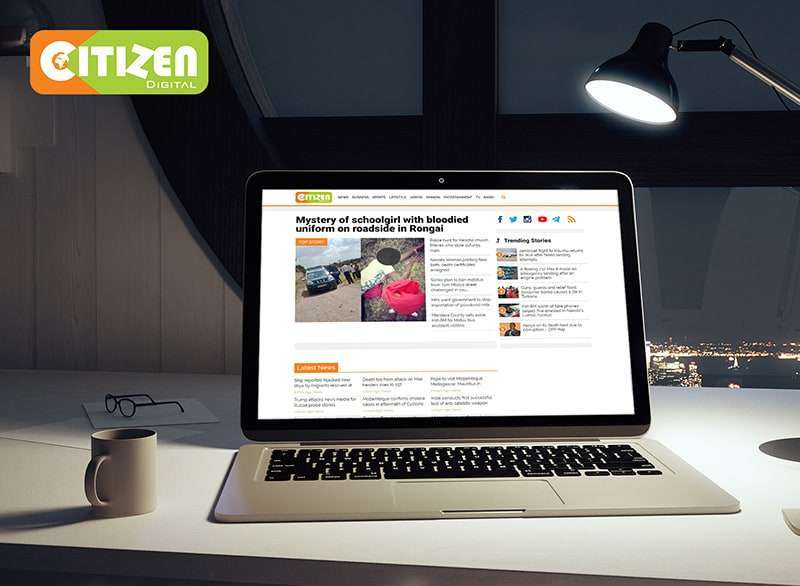 Balton CP: Integrated digital portal
Balton CP has worked in Africa for more than 50 years with a mission to bring the highest quality products and state-of-the-art technology from around the globe to develop new services for the emerging African market. They are a leading player in the field of agribusiness, technology and innovation, energy and project management with their operations that span across Kenya, Tanzania, Uganda, Rwanda, Zambia, Ghana, and Nigeria.
AlignMinds developed an integrated digital portal with a central point of web management to help Balton CP to have distinct websites with independent web management for each of their subsidiaries and centralized management for the super admin.
Website: https://www.baltoncp.com/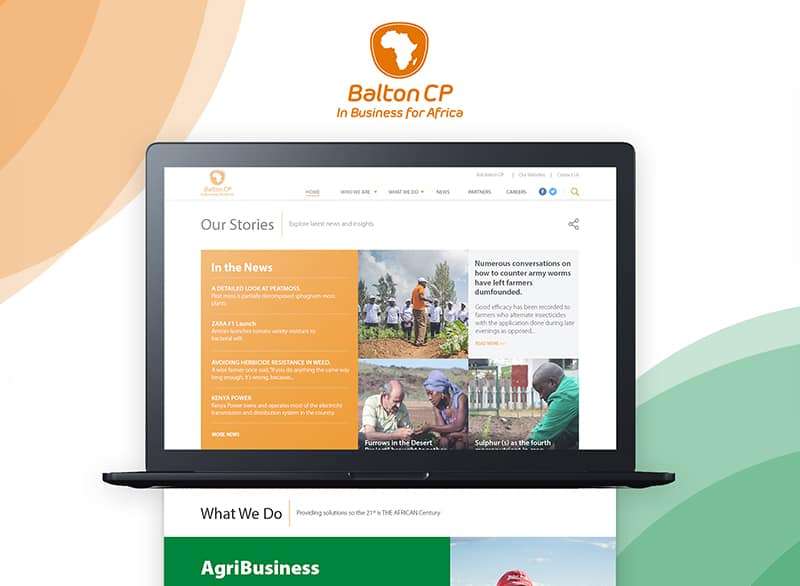 Finding the developers behind the most popular apps in the market has its own advantages.
These apps became popular not by fluke. Only with a deep understanding of the market, right conceptualization, supervised development, and flawless deployment (Testing and maintenance) a solution can be turned into an awesome app.
To build something like this, the team must have the right talent, genuine passion, and good quality standard.
If you are searching for such an app development company in Kenya, you are in the right place.
We have implemented numerous projects for our Kenyan and international clients throughout the period of 10 years. We have done projects for POSTA Kenya, Royal Media Services, Citizen TV, Balton CP group and many other prominent players in the Kenyan Market. Contact us now!
Leave a reply
Your email address will not be published.