MODIFIED ON: November 29, 2022 / ALIGNMINDS TECHNOLOGIES / 0 COMMENTS
Our Success Mantra: AlignMinds at DBS Hackathon
The Beginning
All the fun and excitement began on a cold Wednesday morning when we got the news that my team at AlignMinds Technologies was shortlisted among hundreds of mobile app development companies in India. It was a pleasant surprise to know that we were taking part in one of India's prestigious Hackathon events that was being hosted by Development Bank of Singapore (DBS Bank), Singapore.
For those who are less aware of DBS (the way I was, two weeks back), it is one of the largest banks in South East Asia led by the CEO, Mr Piyush Gupta.

Within a moment's notice, AlignMinds team was ready for the technology warfare as we call it. We were being led by our top management that includes our CEO, Devnarayanan G Nair, our Head of Technology, Madhusoodanan M P, our Head – Execution and Delivery, Sowmya Sharath and our Head – UI/UX, Juny George. Our development team comprised of three Android developers who had a "bring-it-on" attitude towards the event! They were Muhamed Riyas, Divya and Vishnu. The team would not have been complete without our technical support gurus who ensured that there were always connected to the network. Ravi Varma led this team with the utmost confidence. Finally, it was me who took care of connecting and bridging the communication and analysis between the two groups.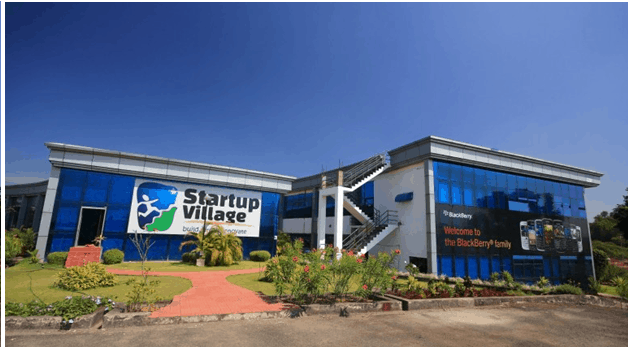 The event was held at the Startup Village, Kochi which is currently the biggest and best incubation centre for technology entrepreneurship. Ideatory, a reputed Singapore based technology startup was in charge of ensuring that the event was a grand success. Ideatory team, headed by Sudhanshu Ahuja, did exactly this by ensuring perfect coordination and management of activities throughout the event.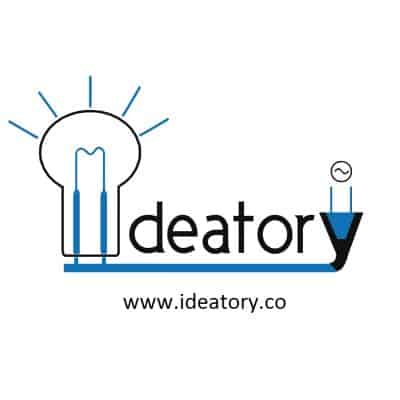 The best part of the event was that my team would get the opportunity to work with the DBS team and technology innovators who have scaled the organization to its current glory. However, all this excitement came with an equal share of challenges which was to prove my team's worth and this is exactly what we urged for throughout the 2-day extravaganza!
Day 1
The event was flagged off on 22nd August 2014 at Cherai in a magnificent beach-facing resort. My team and I reached the venue at sharp 6 PM and quickly finished the ice-breaking session with the program coordinators. In between, we were introduced to our wonderful mentors from DBS Bank. This included Ms Elizabeth Chapman, Executive Directors, Akhil Doegar, VP-Product Development and Harish S, Senior Product Manager at DBS. Harish was the primary point of contact from DBS for the 4 days of telephonic discussions with me before the event. During these calls, I could extract as much information as possible regarding the requirements.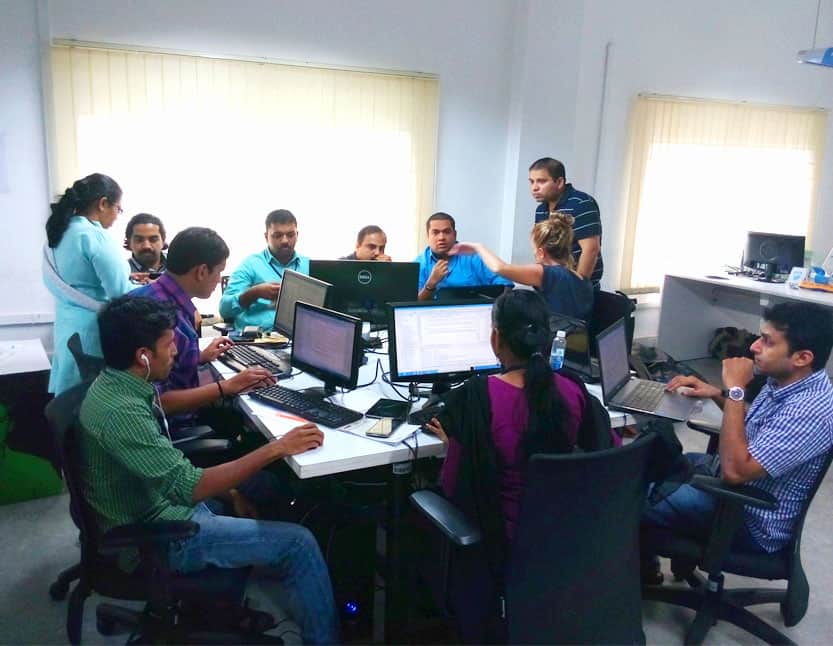 During the inaugural event, we were keen to utilize every moment that was at our disposal in understanding the requirements and proactively involved in discussions which would ease our journey in the next two days. Once the initial ice-breaking and socializing was over, we met Harish at his resort cottage and had a detailed brainstorming which brought our ideas much more into alignment.
Interestingly, the whole team was so immersed in the conversation and did not realize the two hours went through! The next two days at the event can be summarized in three words: Excitement, Energy and Determination.
We started the day at 9 AM on Saturday. After a quick post-breakfast meeting, we rushed to our workstation and began our fight for success. The proactive attitude and functioning of the team were greatly appreciated at various incidents by most of the top management from DBS. For us, the question was not "who will do it", but it was "how well can we do it"!
I wish to re-quote our CEO's statement given to The New Indian Express, "We were aware of the challenges but we were more focused on the goal which was possible only with sincere hard work, impeccable teamwork and proactive analysis".
Our CEO says,
"We were aware of the challenges, but we were more focused on the goal, which was possible only with sincere hard work, impeccable teamwork and proactive analysis"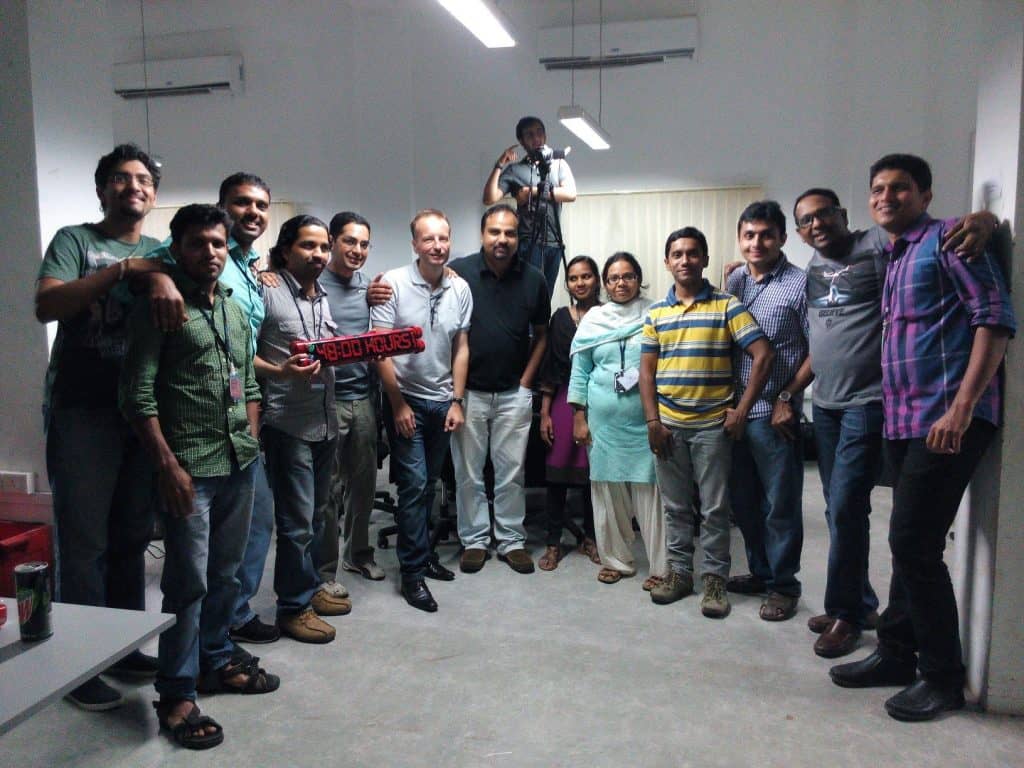 Intermediate Demo
Although the start was perfect, we had our fair share of complexities and challenges in store during the second half. We developed our initial prototype within a record time frame of 6 hours using our rapid prototyping and collaboration tools including InvisionApp. This gave a much clearer picture to our mentors who decided to take a different route. This was followed by a 90 minute stand up meeting where each team member did their best to visualize and ensure that the iterations were bringing us closer to winning the championship. The meeting concluded with great applause which was an immediate reward for the amount of thought we put in to redesign the concept and conceptualize their requirement.
Final Hours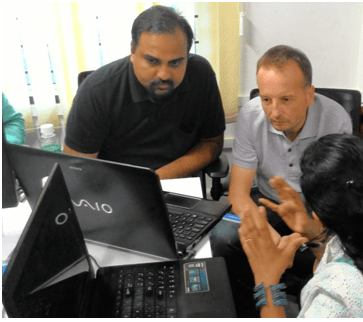 Sunday was reserved for redesigning, prototyping and ensuring that each functionality and layout that was requested for was working in the Android app. My team did this with so much passion and attention to detail, that the quality of the prototype was in par with a live Android application.
Our CEO coined an interesting name for the app – DBS Mongo! Mongo referred to "Money on the Go" since our prototype aimed at easing out the payment procedures and transactions to the bank customers.
We worked and worked till 18: 59 as we had to submit our app at 19: 00. And the rest is history. AlignMinds triumphs in winning the confidence and acceptance from our judges who were the top officials at DBS who had flown down from Singapore. The judging panel included the Group Head – Digital Banking – Olivier Crespin, Chief Innovations Officer, Neal Cross and the Head – Customer Journey Design, Raju Nair.

3d Printed Hackathon Memento
We believe that the success mantra of my team's triumph was teamwork, speed and determination! We worked together with a single aim and focus which led us to our destination. I believe that our success was destiny but reaching it was our decision. I personally look forward to being part of such events which helps my team and me to take up challenges and prove that we are the best!
Leave a reply
Your email address will not be published.