MODIFIED ON: November 29, 2022 / ALIGNMINDS TECHNOLOGIES / 0 COMMENTS
IT Outstaffing: Should You Pull the Trigger?
Striving to get your IT projects done effectively and efficiently?
Well, most of the IT projects get stuck because of numerous difficulties and complexities resulting due to a lack of development capacity. 
IT companies require their staff to be updated, vigil, fast, and super talented. An IT company that faces the issue of lack of development capacity might face hefty losses in business and profit.
However, to avoid these issues, big corporations prefer to work with outstaffing their IT projects and strive to upgrade the effectiveness and efficiency of their core operations.
With Outstaffing their work, organisations are reducing their expenses up to a substantial amount along with improving their scalability and flexibility.
The majority of the organisations require IT specialists, temporarily or based on project requirements. In such a scenario, employing IT professionals for a permanent role can be a costly affair for the company.
Therefore, assigning the projects to an outstaffing company and entrusting them with management and developments of the same can be a smart decision for them.
To understand the concept of IT outstaffing services, let's discuss its various aspects in brief.
Trends and statistics of outstaffing in the industry
Since the year 2020, there has been an unprecedented level of increase in the sector of remote working.
Remote working is also commonly known as hybrid working. Due to the devastating spread of Covid-19 majority of the organisations have adapted the culture of remote working to continue the core operations of the company smoothly.
Major organisations are concentrating more on their core business and prefer to assign complex tasks to professionals who are specialised in the respective fields. They are also boosting their work processby inducing their operations with RPA (Robotic process automation) to eliminate the repetitive tasks processes.
Most organisations are moving to cloud-based technologies for better scalability and security. The majority of companies prefer to outsource or outstaff all their infrastructure-related work.
Companies are looking for IT professionals that are specialists in building complex and advanced products. If the right talent is not available locally, they are open to hiring globally.
The substantial growth of Artificial Intelligence in the industry makes major organisations infuse themselves with this advanced technology. Therefore, such companies are looking to outstaff AI-centric projects to IT professionals who are specialised in automation and AI.
After the pandemic, more people are preferring to work remotely. Organizations are finding headhunting more tiresome, less fruitful, and most of the time the right talent is out of reach for an onsite job.
Several organizations are finding it difficult to maintain their talent pool and it is affecting their productivity. Since human resource plays a vital role in business growth, they are looking for innovative ways to attract and maintain talent. 
Definition: What is outstaffing?
For a better understanding of the concept of Outstaffing, let's discuss it in brief.
IT outstaffing is a concept where big corporations, companies, or organisations collaborate with IT professionals and hire them to work for them as independent developers. Hiring an IT developer or a team of developers to do remote work on the IT projects of the companies is known as IT outstaffing.
These IT developers are directly employed by an IT outstaffing agency, but they ensure to perform all tasks for your organisation and submit it on time. The IT outstaffing company also has the entire responsibility of paying wages, bonuses, and other employment benefits to the employees.
To be clear about this concept, you must know that outstaffing and outsourcing are two entirely distinctive concepts.
Outstaffing is a concept that allows you to gain access to hiring an independent development team. Moreover, in Outstaffing, the chain of communication is not complex and is simple because you can directly contact them for the status of the projects. It also eliminates the complex process of communication in the form of hierarchy.
Furthermore, in IT outstaffing services, you can also instruct the development team to work on multiple projects at the same time according to the work agreement conditions.
Outsourcing Vs. Outstaffing
The concept of outsourcing and outstaffing is commonly confused with one another.
Indeed, both the concepts are a bit similar in some aspects; but if you will try to understand it in brief they are entirely different.
Let's clear your confusion regarding both the concepts and help you gain a clear understanding of the same.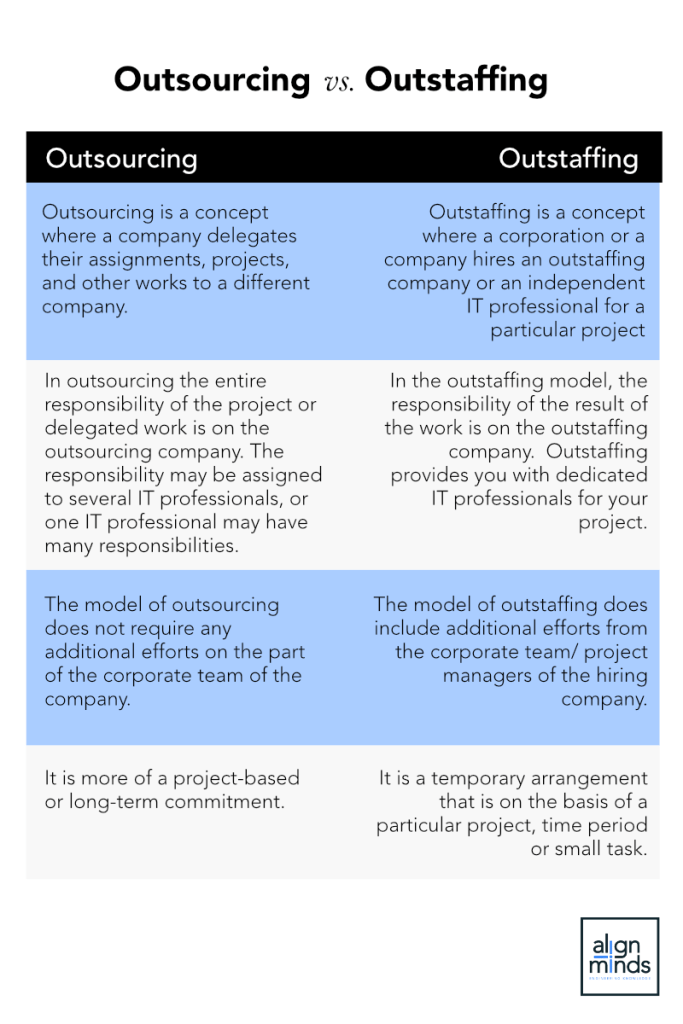 Advantages of outstaffing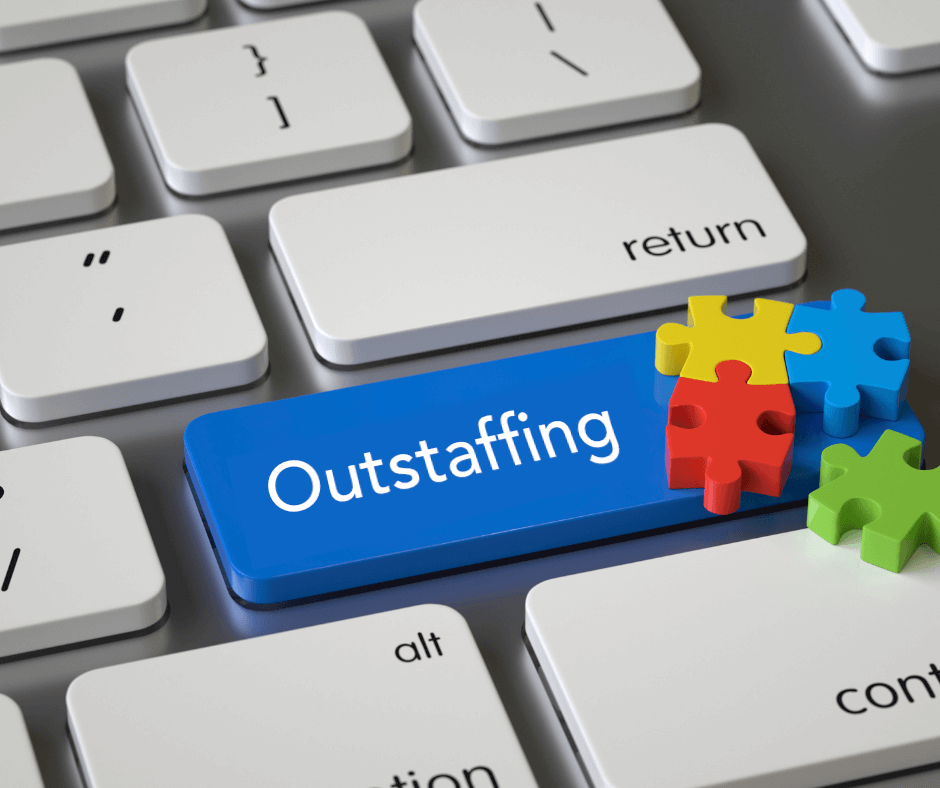 Outstaffing is a popular concept of getting work done by independent IT specialists without enrolling them as an employee in your company.
Besides the easy culture of getting work done, there are numerous other benefits of outstaffingas well. The various advantages of IT outstaffing services are as follows:
Smooth model of hiring
Outstaffing is one of the best forms of getting your IT projects done by IT specialists and professionals.
With the benefits of IT outstaffing services, the company can have their own permanent staff and also can hire independent professionals who are specialised in certain fields and technologies from other companies temporarily.
The features that makehiring outstaffing services beneficial for your company as well as for your hiring model is that this way, you can maintain a flexible team and can have full control over cost and resource management.  You can make a onetime payment to the outstaffing service provider and the wages or salary of the IT specialist along with bonus and benefits would be handled by them.
Full control over the development project
Another benefit ofIT outstaffing servicesis that your projects and work is handed over to the hired development team, which means that the work will be done by the partner company employees. However, the control over the development projects remains with you.
While deciding whether to outsource or outsaff software development, you must keep in mind that with outstaffing, you will have a dedicated team of IT staff to work on your project.
By choosing IT outstaffing services, the companies will get a chance to vet the professionals before hiring and since she will act as a dedicated staff to your company the project will be delivered on time with the expected quality.
Full access to the resource
The prime reason why most organisations are choosing outstaffing is that this way, they will have full access to the day-to-day management decisions as well as resource management. If you have a project manager, she can assign the day-to-day task to the hired professional or you can also a hire team of IT professionals that include designers, developers, project managers, testers etc.
Substantially low costs
The cost of outstaffing is substantially low compared to hiring permanent employees. You do not have to pay any bonuses, benefits to the IT specialist you hire through outstaffing and you also get a dedicated employee to the team. Also, there is no labour penalties for downsizing your outstaffed team.
Moreover, if you are on a "pay per hour" contract, you will get a precise report on how much time each task is taking, and you can also request the staff to work on more specialised tasks.
Overall, the expenses spent on a permanent employee are substantially higher than making a single time payment to an outstaffing company. Furthermore, if the company is more careful and attentive in working effectively and efficiently, outstaffing will be the right option.
Cons of outstaffing
Outstaffing models are beneficial for companies in general, but every hiring model does have its loopholes as well. The outstaffing model has a few shortcomings or challenges that are as follows:
Communication gap
Since the hired professional will be working remotely or independently and separate from the entire development team, this might result in some communication gaps between the team of IT staff. Such communication gaps between the team might result in misunderstanding, complexities, and non-quality work.  
However, today, due to the advancement in technology and communication, this can be mitigated by using the right communication tools.
As the project management team of the company, you must ensure a smooth communication channel with all the developers of the development team that are part of the outstaffing company. Moreover, you must also make sure that the entire team of the project is connected and updated with the required details of the projects.
The reporting and work status must be transparent and should be shared with the corporate team managing the IT project.
Responsibility of the project
Hiring anIT outstaffing company to provide the IT projects to them can raise a question relating to the responsibility of the projects. Indeed, the final responsibility of the project is within the hands of the outstaffing company only; however, it is fair enough to say that the responsibility must be shared.
It is always recommended to curate the contract based on all the aspects of the projects including responsibility and resolution.
What types of business will benefit the most from outstaffing?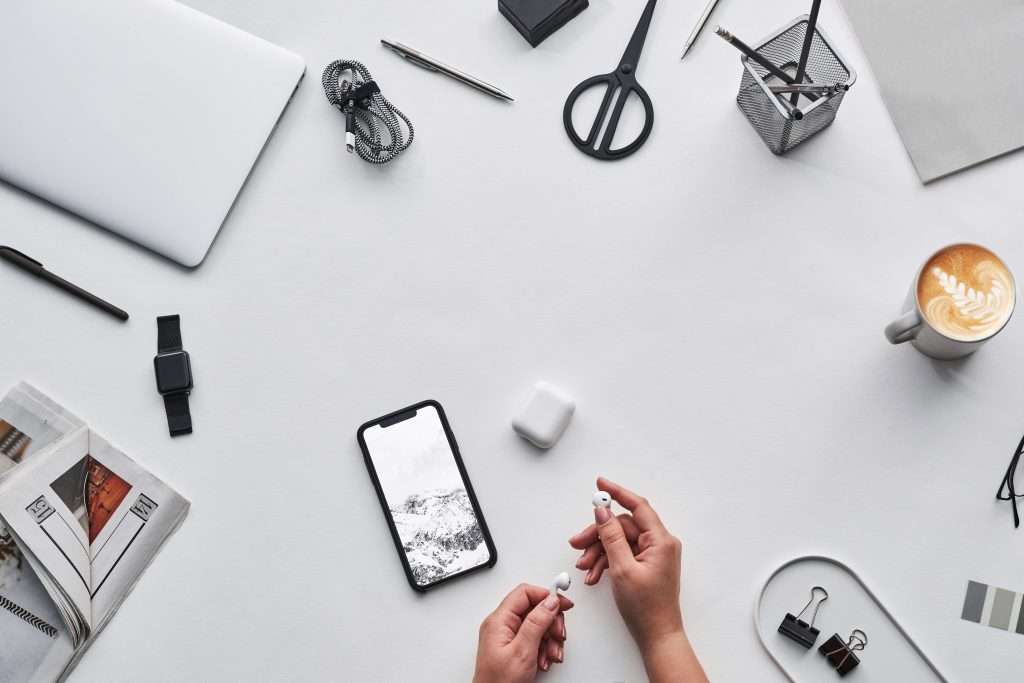 Outstaffing is a common work model that is incredibly famous in the entire corporate industry.
It has various benefits such as cost-effectiveness, saving time and effort to find the right talent, quality of work, flexibility and more.
The concept of outstaffing is a common concept that is not linked with any particular industry or business. However, as per the popular trends of the market and survey reports of various experts, we can say that the concept of outstaffing is highly beneficial to small businesses who like to manage their resources more efficiently.
IT outstaffing is also beneficial to the companies who want IT projects to be done by professional developers without going through the pain of hiring them as direct employees.
This hiring model is also suitable for businesses that need people who are specialised in certain fields or technologies only for a particular project or temporarily.
Where to outstaff?
There are numerous outstaffing companies available across the globe. However, the cost associated with outstaffing varies depending on the living standard in these countries. If you are looking to outstaff software development with a minimum cost without compromising on quality it will be better to hire from developing countries like India, Eastern Europe, Vietnam, the Philippines etc.
But always vet the professionals before making a hiring decision. Also, it is recommended to check the history, vision, experience, expertise, and reviews of the IT outstaffing company before making a partnership with them.
Final thoughts
The outstaffing model is incredibly famous, beneficial as well as productive for organisations that want to implement IT projects. If you are aiming to develop complex or high-quality IT products without increasing your employment budget, then IT outstaffing is the best option for you.
AlignMinds has more than 12 years of experience in the field of web, mobility, DevOps and AI. We have a pool of specialised talent with the experience of working on small to complex projects for several verticals from media to government.  If you are looking for an IT outstaffing company for your next project, contact us now.
Frequently Asked Questions
What is IT outstaffing?
Outstaffing is a form of indirect employment of a developer, development team, or professional. In this hiring model, a company hires a dedicated and specialised professional temporarily through an outstaffing service provider to ensure better resource management, flexibility, and quality of work.
What are the advantages of it outstaffing?
There are numerous advantages of IT outstaffing. Some of the most beneficial pros are as follows:
IT outstaffing is more affordable.
Full control of the management aspect of the IT projects.
Full control over the resources hired.
Access to the vetting process.
Decrease of a burden on the corporate team in regard to talent hunting and management.  
Saves time and promotes flexibility.
Access to the best talent and specialised professionals.
Promotes working on complex or multiple projects simultaneously.
Should I outsource or outstaff software development?
Outstaffing the development project can help the company to have access to the right talent with minimum cost and effort. It provides you with dedicated resources without the need to go through the complexities of hiring and maintaining talent.
On the other hand, outsourcing helps with getting the work done by an outsourcing company without any worries or additional effort from you.
How much does outstaffing software development cost?
As compared to the outsourcing model, the outstaffing model is comparatively cheaper and more cost-effective. However, the exact cost will depend on the speciation and experience of the resource. For an estimation, please contact us.
What is the best country to outstaff software development?
If you are cost-conscious, outstaffing IT projects to any developing country that has the right talent pool will be the right option for you. Since the cost of living is less in such countries, the project cost will also be less. However, male sure that the country and the organization has the right infrastructure, suitable working culture, experience in working on similar projects before outstaffing.
Leave a reply
Your email address will not be published.