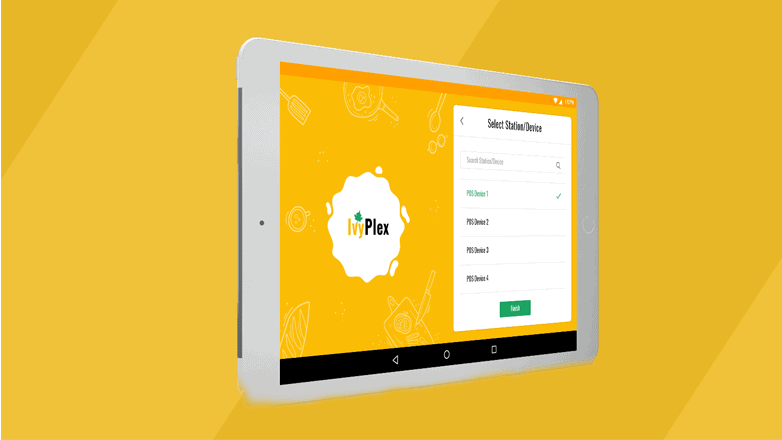 For small to large scale restaurants
IvyPlex is an inimitable Android POS system specially designed for all types of restaurants from small scale to large scale and ice cream parlours to multi-store food courts.
This cloud based restaurant POS system aims at facilitating profitable growth for your food business whether it is a hotel, coffee shop, bar, pizza shop, ice cream parlour, food truck, bakery, restaurant or large food court. That's why we developed IvyPlex based on a flexible architecture that allows the expansion of its features and the rate of functions it can execute at a time.
Use it on tablets or at terminals
IvyPlex is a modern Point of Sale system that works on Android OS. The flexibility offered by IvyPlex by being compatible with any Android tablet or TV box makes it one of the best mobile POS systems available in the restaurant industry.
Cloud based POS system
With IvyPlex cloud POS system, gone are the days of physical servers and big memory modules that add on to the size of the POS device. Use of the latest cloud technology to execute backend processes and data storage enables IvyPlex to offer a faster, safer and secure experience to its users with round the clock performance and unmatchable accessibility.
A complete restaurant POS system
IvyPlex is equipped to handle all the operations in a restaurant or your food outlet, starting from order taking to settling the bill and daily report making. The state-of-the-art interface and simple workflow of IvyPlex POS system transform all restaurant functions to an enjoyable experience for your staffs, so that they will never miss a smile on their face!
Features
A lightweight Android POS system with the benefits of the latest cloud technology
User-friendly interface
IvyPlex has a user-friendly interface that boasts of a compact yet well-arranged menu to help staffs take orders swiftly and effortlessly. IvyPlex follows a user strategy that is based on productivity and, reduces waiting time for customers.
The search function helps staffs to add an item easily to cart, with the speed of light.
The easy to use interface of this cloud restaurant POS system enable it to be used in any Android tablets, TV boxes or at terminals.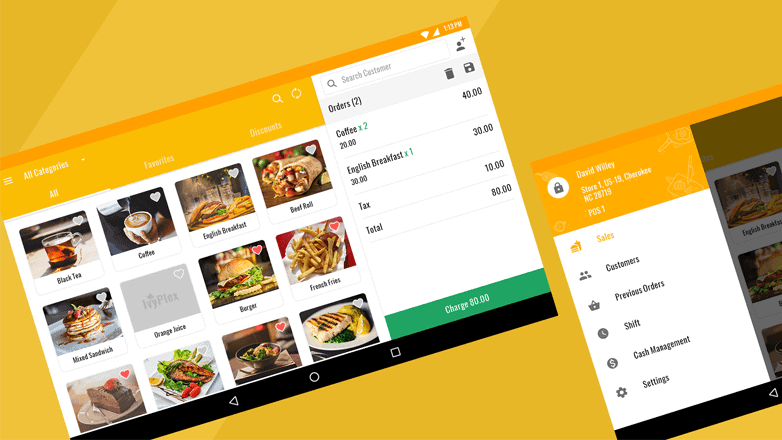 Order management
Since IvyPlex Android POS system is specially designed for restaurants and the food industry, creating fresh orders are easier than ever before. Add items to the cart by simply tapping on them. Or, make use of the purpose-built search function to quickly add specific items to the order. Modify orders, modify item quantity or remove items from an order, or the order itself, directly from the screen.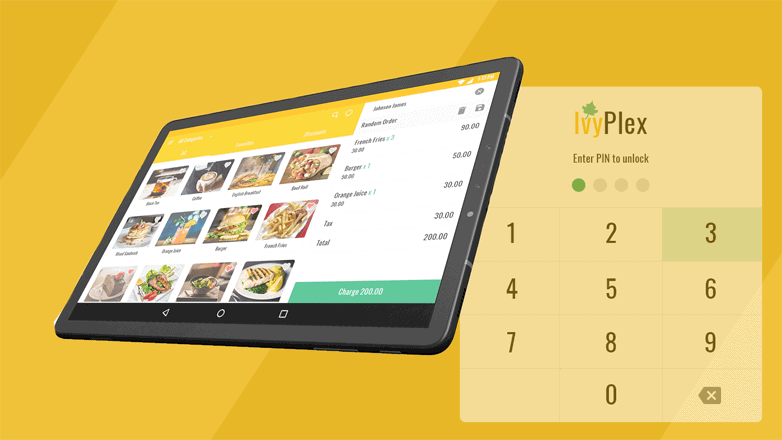 Offer complimentary items
Use this Android restaurant POS system to take customer satisfaction to the next level by offering part of an order or the complete order as complimentary to your customers.
Repeat items
This cloud-based Android point of sale system saves you valuable time by letting you repeat items in an order with a tap of a finger.
Assign table number
IvyPlex Android restaurant POS lets you easily assign a table number to every order you take. This handy feature helps restaurant staffs to avoid any confusion while delivering the orders.
Merge orders
Using this modern Android restaurant POS system, you can merge multiple orders into a single order. An order number of one of the orders before merging is kept as the new order number to enable you to easily track the orders.
Customer profile
Collect customer information and contact details every time you create a new order using IvyPlex. Improve customer loyalty by sending them special offers and discounts directly from the dashboard and drive more sales and revenue from your restaurant business.
Previous orders
IvyPlex Android restaurant POS enables you to view charged orders based on dates. Or you can search using the order number to get the order details. A set of handy buttons are displayed along with the order number to help your restaurant staffs to refund an order, email or take a printout of it.
Kitchen Order Ticket
IvyPlex lets you create Kitchen Order Tickets. These Kitchen Order Tickets can be printed or send directly to the Kitchen Display system electronically.
Kitchen Display System (KDS)
Once an order is confirmed, a Kitchen Order Ticket will be automatically sent to KDS. Orders taken using this advanced restaurant POS system are automatically displayed on the Kitchen Display System with the KOT number and all the items in the order.
You will also get an option to map different menu items to different stores if they are equipped with dedicated KDS systems. Every time a new order is accepted, the list of items will be displayed on the respective KDS, categorically and automatically.
Split bills & Payment management
IvyPlex is the most convenient Android POS system for restaurants available today. By choosing IvyPlex over any other restaurant POS system, you get the benefit of offering your customers the convenience of split payment. Divide the amount of final bill into small amounts and specify different payment modes like cash, card or mobile money to settle them. IvyPlex also allows printing of multiple copies of bill and receipt.
Cash management
IvyPlex is a complete restaurant POS system that features an inbuilt cash management module that enables staffs to mention the amount of pay in and pay-out of every session. The staffs also get an option to add comments regarding the transaction, on the same screen.
Sessions
IvyPlex lets you divide the total day into different sessions and keep an eye on the status of them. You can assign your restaurant staffs the authority to open new sessions and close the ongoing one. You also get the option to specify opening and closing cash balance, display and print sales summary of every session.
Hardware integration
IvyPlex is a modern Android POS system that is compatible with a wide range of receipt printers and cash drawers used in restaurants. As it can be easily integrated with a Bluetooth fiscal printer, IvyPlex is quickly becoming the favourite choice for African Market. A dedicated interface is also designed to help users with configuring the printer, Kitchen Display System, and fiscal printer.
Offline compatibility
IvyPlex is one of the few cloud based POS systems for restaurants that can execute all ordering functions flawlessly, even when there is a loss of internet connectivity. All data and transactions will be automatically synchronized to the server the moment connection is restored.
Powerful customization options
IvyPlex is a smart Android Point of Sale system that is well suitable for all size of restaurants, bars, coffee shops, ice cream parlours, pizza shops, food trucks, bakeries, hotels and food courts. It doesn't matter whether you want to use it for a single food outlet or a chain of outlets that may spread across continents. Because we have bundled IvyPlex with a powerful backend to help you easily customize the solution based on the nature of your business and geography.
Currencies: Create currencies of your choice directly from the dashboard. View the existing list of currencies.
Countries: A dedicated window is provided to add new countries and view the existing list.
Provinces: View the list of provinces and create new ones.
Customize number pattern: Users have the option to set up different number patterns for documents such as purchase orders, Goods Receipt Notes (GRN), Purchase Invoices, Transfer Out and Transfer in.
Measurements: Add any measurements of your choice that fit the nature of your business.
Companies: Add new companies to the list and view the existing one.
Hierarchy: View and edit the organisational hierarchy.
Different user levels
As it is a complete restaurant POS system, IvyPlex has a powerful backend that lets you create different user levels with different sets of permissions. This compelling feature enables you to have better control over authorizations and avoid any situation where unintended personnel accessing the system.
Multiple authorization levels
With IvyPlex restaurant POS system, you can easily assign a different set of permissions for different user levels and ensure your organization hierarchy. A whole module can be assigned or unassigned for a user role or permissions can be assigned independently according to the requirement.
The list of modules come with this flexible Android POS system includes Customer management, Employee management, Inventory management, Inventory settings, Menu item management, Offers and Discounts, Organization, POS management, POS settings, Reports, Security, Settings and Workflow.
Create stores and POS stations
Create new stores and POS stations right from the dashboard of this robust Point of Sale system. Customize the features of each POS based on the requirements and user levels.
These features include
Show Tax in Bill
Use Fiscal Printer for Receipts
Use Receipt Printer along with Fiscal Printer
Complimentary on Charge
Sessions
Open Tickets
Customer Notification
Refund
Print Bill
Show UoM in Bill
Show Barcode in Bill
Choose Tables for Orders
Search by Table
Print KOT
Modify Order After Bill Print
Show Warning on Fraud Detection
Allow bill only after KOT
Send to KDS
Show Tax in Cart
Sales Tax
This comprehensive Android Point of Sale system lets you create different sales taxes according to the type and location of your business. Sales tax can be applied automatically to a customer receipt or can be turned off for a specific or set of stores.
Menu management
Customize the menu by creating and editing categories, variant types, modifier types, menu types, tables and receipts.
Customer management
IvyPlex makes it easier for you to create new customer profiles, view existing ones and edit them. Use the list to send promotional and special offers to customers and improve your brand loyalty.
Employee management
Create new employee profiles instantly with this IvyPlex restaurant POS system. Include details like employee code, name and designation while creating a profile. Also, create new designations, view the existing list and edit them through simple steps using this user-friendly cloud based POS system.
Inventory settings
IvyPlex restaurant POS system comes with inventory settings that allow its users to set up purchase taxes and create categories, inventory items, storage locations and vendors. Map different items with different vendors and different warehouses. Recalculate production cost every time the cost of an item changes.
Inventory management
This complete POS solution makes it easier to create and manage purchase orders, Goods Receipt Note, purchase invoice, transfer in, transfer out, consumption, opening stock, document status, and stock count. Execute two-way matching of purchase orders and GRNs. Let your staffs manually enter the stock count with the condition that they also submit their name along with the count. Execute the processes of stock posting and stock adjustment with a simple click on a button.
Reports
Generate and download various sales reports instantly using this modern cloud POS system. IvyPlex supports various reports such as sales by item-profit margins, complimentary details, complimentary summary, sales by menu item, open order details, sales by category, sales by employee, sales by payment types, sales by receipts, fraud alert report, sales by store, taxes, void report, KOT report and session summary.
You can also generate stock reports and export them instantly using this comprehensive restaurant POS system. Available options include stock value by item, current stock by item, current stock level alert, stock tracking and stock tracking summary.
Benefits
The complete restaurant POS system with the quality of being wide-ranging and large in scope
An Android Point of Sale system powered with all the advantages of cloud technology
A state-of-the-art interface
Offline compatibility
Compatible with any Android tablets and TV Boxes
A complete POS system specially designed for restaurants, bars, hotels, coffee shops, ice cream parlours, pizza shops, bakeries, food trucks and food courts of any size
An all-inclusive modern Point of Sale system with all the features to run your food business
A wide range of customization options to help businesses of all types
Compatible with all the premier receipt printers and cash drawers available in the market
An inbuilt cash management system enabling you to keep a track on pay-in and pay-out
One of the few restaurant POS systems that offer inbuilt inventory management
Customer management and inbuilt loyalty program
Create employee profiles and manage them easier than ever before
Create user levels and assign them different authorization and permissions
Set up and customize a variety of receipts, invoices, sales taxes and various other documents for accounting and audit purposes
Advanced order management that also offers a provision to merge multiple orders
Split payment
Kitchen Display System that can also be decentralized across stores
Generate various reports and export them instantly