MODIFIED ON: November 28, 2022 / ALIGNMINDS TECHNOLOGIES / 0 COMMENTS
What Really Determines Mobile App Development Cost?
If COVID has benefited any industry, it is the tech industry.
Due to quarantine and self-distancing as a measure against the pandemic, the direct interaction between consumer and business has widened. As a result, there is a surge in demand for technology innovation and adoption in the market to fill this growing gap.
Even the ones that were called "traditional" have either digitalized their business or are in the early stages of technology adoption.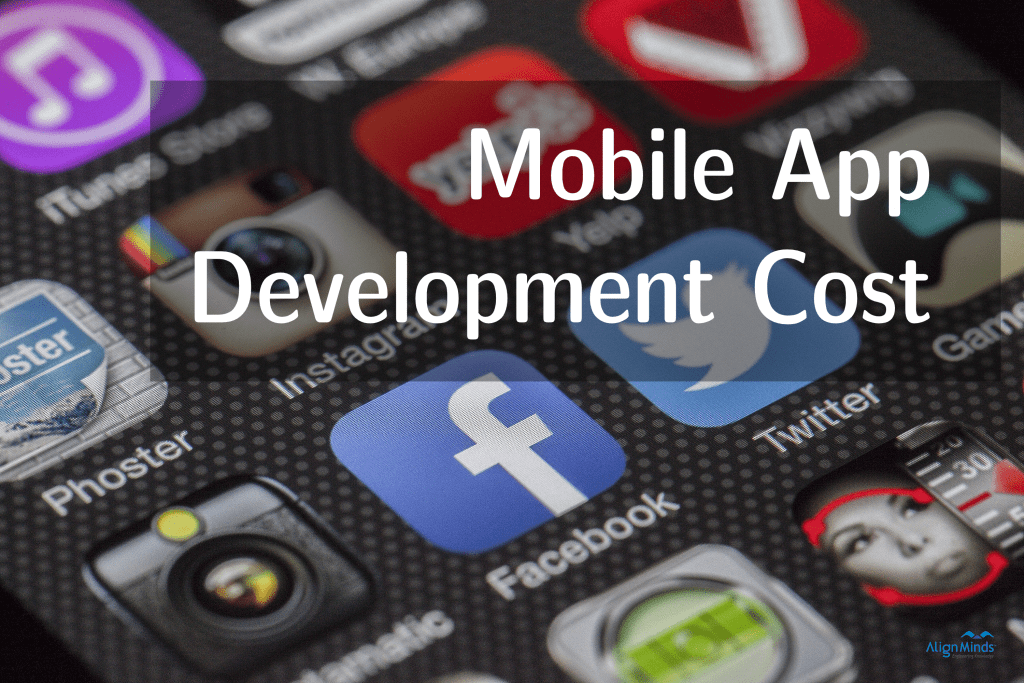 However, there are businesses and entrepreneurs who are not yet able to make the transition. One of the major reasons is the budget and availability of a reliable technology supplier. For most of them, the current situation was unforeseen, and they are sceptical about the ROE they may gain through the digitalisation of their business. Or, they have a limited fund available with them.
This article is written with an aim to help such businesses and entrepreneurs.
What is mobile app development?
To understand what mobile app development is, we should first understand what mobile apps are.
A mobile app is a set of mobile programmers with specific functions that are bundled together targeting a defined population with specific needs. These programmes tried to fulfil the needs of the defined population through
Delivering services directly through the app
Helping the population to request for the services and products through the platform
Helping businesses to connect with the population
In the first and last cases, there will be a single vendor whereas in the second case there may be more than ne vendor.
Mobile apps are rapidly becoming popular since the last decade. Industries like retail, telecommunications, banking, insurance, healthcare, and government have already leveraged the power of mobile apps to enable users to conduct transactions and access information in the most convenient way.
The number of mobiles apps are increasing day by day and the usage of mobile apps have seen a rapid increase in the past years.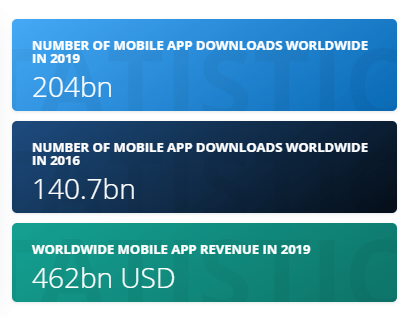 (Source: https://www.statista.com/topics/1002/mobile-app-usage/ )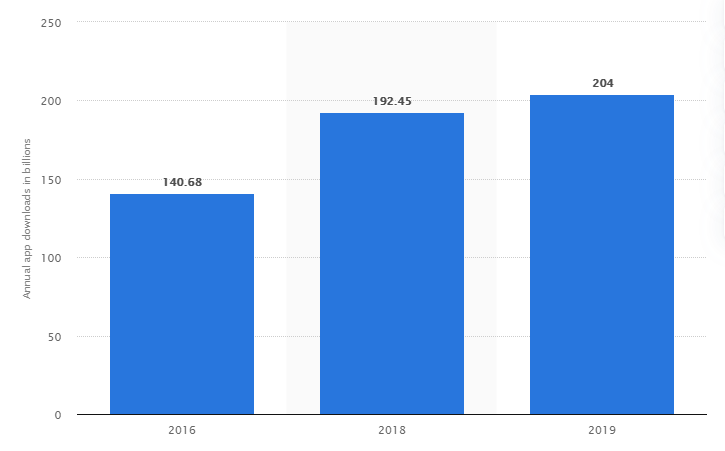 Number of mobile app downloads worldwide from 2016 to 2019 (Source: statista.com)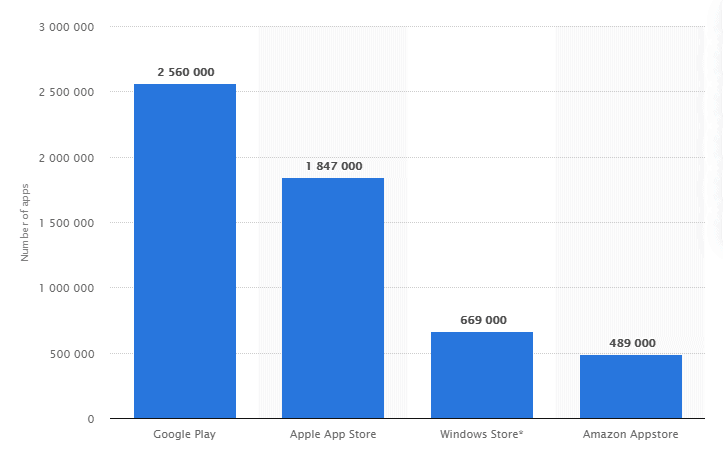 Number of apps available in leading app stores in 2020 (Source: statista.com)
These numbers are expected to increase many folds in coming years as technology is improving at a rapid pace and businesses are leveraging technology to offer a convenient medium for their customers to connect with them and get services and products from them.
Mobile app development cost
Due to the fact that customers are looking for more convenient ways to get services and products done and businesses are having a hard time with minimizing the gap between them and their targeted customer base, it has become almost a mandatory to use technology to your advantage.
However, one of the major hurdles in getting a mobile app for your business is the cost associated with the development of the app.
There are many factors that go to deciding the cost of developing a mobile app.
Factors affecting the app development cost
Geography
One of the major factors in deciding the mobile app development cost is the location of the app developer. Usually, service providers from first world countries charge a higher rate for their services. Whereas, app developers from south-east Asia and east Europe have a comparatively lower cost associated with their services.
Half of the mobile developing companies charge anything between $25 to $49 for each hour of work they do.  Developers in Asia keep their hourly charges to a maximum of $100.
Features and functionalities
The function and features of the proposed mobile app is another major factor that decides the cost of the mobile app. For example, to fulfil a function, the developer may have to choose various technologies, services and components and the integration them together to make the app suitable to successfully execute the function. As the function varies, these technologies and components will also vary, and the cost associated with them.
Platform
There are mainly two types of mobile apps: Native and hybrid.
Native: Developed for a particular platform, for example, Android. These apps will work only on this particular platform.
Hybrid apps: These are cross platforms apps that works on more than one platform.
The advantage of a hybrid app is that it will on more than one platform and there is no need to develop separate apps for different mobile platforms like iOS and Android. This will help in cutting down the development cost significantly since the resources needed now will be less.
If you are focusing only on one platform, for example, Android, the cost may be different compared to developing the same app for the iOS platform. It is mainly due to the workflow, resource allocation and quality standards that vary from platform to platforms.
Time
If you want the app to be deployed as fast as possible, the cost may go up. This is mainly because more resources need to be invested in the process to deliver the product as early as possible.
Experience and expertise of the development team
Experience and expertise do not come cheap. If the app developer is an expert in the field and has years of experience under the belt, she will be charging a relatively higher price for the services. The good thing is that such developers can provide quality products, based on the requirement and the nature of the market, within a short time possible.
Design and user experience
Design and user experience plays a vital role in deciding the success of a mobile app. An app with good design and offer great user experience will win attention and popularity easily in the market. However, coming up with a good design strategy and optimizing user experience requires expertise, time, and resources. A good design strategy and user experience are the results of in-depth market research, conceptualization, testing and evaluation. Therefore, developing a disruptive product always requires a good investment.
App security
Most of the mobile apps deal with at least one set of sensitive data like user information, financial transaction, documents, user locations and user behaviours. This information may be critical in the smooth functioning of the mobile app. But, what important is ensuring such data are stored securely and there is no data theft or unauthorized access. Since the value of data is usually decided by the sensitivity of the same, we will have to put extra security measures to protect such data. Security is one of the critical features of any digital solution.
App Deployment
App deployment is all of the activities that make a software system available for use. Usually, it means, the app is ready for use and is uploaded to app marketplaces like Play Store by Google (In case of Android apps) or App store by Apple (In case of iOS apps). App deployment itself is a service and there is usually a cost associated with it.
Maintenance and update
Apps demand maintenance and regular updates. Releases of security patches in regular intervals is a critical part of maintenance. Usually, the first version of the app is released with minimum features. More features will be added as updates based on user feedback and market demand. Also, as technology advances, there will be new methodologies that need to be integrated with the app to replace the outdated ones.
Maintenance and updates plan (Post-deployment plans) varies from developers to developers. Industry, technology, future versions planned etc are some other factors that decide the cost of Maintenance and update.
App development cost and app development methods
Waterfall and Agile are the promising app development methods in the industry.  In the case of waterfall method, documentation is required in advance before the process for development begins.  On the other hand, if you are going to use agile methodology, there is no requirement for process documentation before the development.  Using the waterfall technique, you will get a clear viewpoint on what you are getting and how much cost will it require.  Agile method is the most adopted as it comes with a more flexible structure.  You can adjust the products, functions, features and changes.  Through the agile app, you get your app on time and start getting your target audience faster than the waterfall method. 
Waterfall app development method goes right with a fixed fee structure.   You can decide the fixed charges you would like to have while developing the app, however, you may have to compromise with the quality of the app.
In the case of agile methodology, you will get what you pay for.  As mentioned above the method is flexible enough that you can count on the amount you invest in developing the app.  The developers will provide you with estimated rates of their work and you can track the time, efforts, and resources they put into the development process.
Conclusion
Android is the most popular mobile platform today. If you want to target the maximum population but have a limited budget, go for Android apps. 
The cost of developing an app depends on its functions, technology, app architecture, resources needed, planned stages, timeframe, security, and maintenance. Since App development is a dynamic process, there will be always an uncertainty associated with the cost until and unless all the requirements are finalized and there is a development plan in place. The inclusion or exclusion of even a single feature in your app will change its cost. However, never compromise on app quality due to expenditure.
If you have an idea that needs to be transformed into a mobile app, contact us now.
If you are wondering how much it will cost to turn your idea into a mobile app, contact us now and share your requirement! Our team of experts will get in touch with you soon!
Leave a reply
Your email address will not be published.